What is the points league?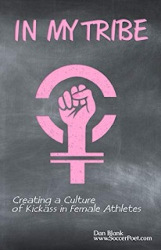 Get "In My Tribe" on Amazon.
The points league is a way to foster a spirit of competition within a soccer team, as described in Dan Blank's book, In My Tribe. During practices, the team splits into two or three squads and play a short, small-sided game or two. Every player receives a point for each point his/her team scores. As a bonus, each player on the winning team of a game gets 3 extra points. Everybody who plays in a tie gets 1 extra point. Losing team members get nothing extra. If a player is absent he/she gets the same number of points as the lowest scoring team for the session. At the end of the year/season, the player who has the most individual points is declared the winner.
What does the points league app do?
It does the bookkeeping for you to manage a points league for your team.
Online Version
The online version is free. It stores all data in your browser, so every time you visit the page using the same device and browser, it will remember your league stats. Go to the Onlinve version now.
Desktop Version
Desktop version is currently Windows only. It is free and will remain free as long as I occationally get a donation to help cover server costs and such.
Supporting this Website & App
If you would like to say thanks, and guarantee that this website stays up, you can donate via:
Contact
If you have suggestions or just want to say thanks, you can email me at "info" at this website. I only phrase it this way to prevent spam bots from harvesting the address.